WestJet's three mistakes in Quebec
WestJet is a 22-year-old Calgary airline that has been very successful wherever it operates. The withdrawal of its four round trips from Quebec City to Montreal at the end of October represents a setback in its development plan in Quebec and eastern Canada. We identified three mistakes WestJet made in its deployment in Quebec.
Notoriety
In English Canada, particularly in the West, WestJet is well known because it has been able to develop a distinctive corporate image. It is perceived as a dynamic company that cares about its customers in most of the markets it serves and the mere announcement of its arrival at a regional airport creates a craze in the community. Some of its YouTube promotional videos have been hugely successful, including the famous 2013 "Westjet Chrismas Miracle" with 48 million views. But since WestJet only produces its videos in English, they are less visible in Quebec, which affects the nototity of the company.
In order to become known in Quebec, WestJet has already broadcast ads in French; it was an adaptation of an advertisement originally broadcast in English Canada. There was an employee who explained, with a strong English accent, why being a owner made him more conscientious. Far from improving its image, this commercial rather reinforced the image of the English-speaking company from the West that does not understand anything about Quebec.
With this inappropriate ad, WestJet made the same mistake as many US and Canadian companies when they want to conquer Quebec's market and miss the mark. To develop the reputation of a company in Quebec, it is essential to use advertising agencies that are familiar with Quebec consumers to adapt the message. If WestJet wants to set up in Quebec, it will have to adapt its message. The Calgary carrier's management must understand that a good advertising campaign adapted to Quebec would have cost less than the failure of Quebec-Montreal flights.
Quebec is an atypical market
When WestJet launched the Quebec-Montreal flights, it was primarily aimed at customers traveling between the two cities. If WestJet simply used the demographic data to establish the potential of the Quebec City-Montreal route, it did not take into account certain realities from here. If you ask Air Canada, PAL and Pascan Aviation, which is their main competitor between Quebec City and Montreal, they will answer that it is Highway 20. Travel time between downtown Montreal to the airport and the obligation to arrive more than one hour before departure makes it preferable to use the car rather than the airplane. In Quebec, the car is a competitor of the plane for many connections and it is a factor that must be taken into account in a market study.
WestJet most open a base in Montreal
Québec's population represents nearly 23% of the Canadian population and is an important market that is difficult to circumvent. With more than 19 million passengers in 2018, Montréal-Trudeau Airport is the third largest airport in Canada. About 80% of the Canadian population lives in four provinces: Alberta, British Columbia, Ontario and Quebec. WestJet has a base in three of them while it still resists to settle in Quebec.
If WestJet had a base of operations in Montreal, it would be able to open very profitable cross-border links as shown by the table of the 20 most popular US destinations from Montreal in 2016, according to the study Origin destination of Statistics. Canada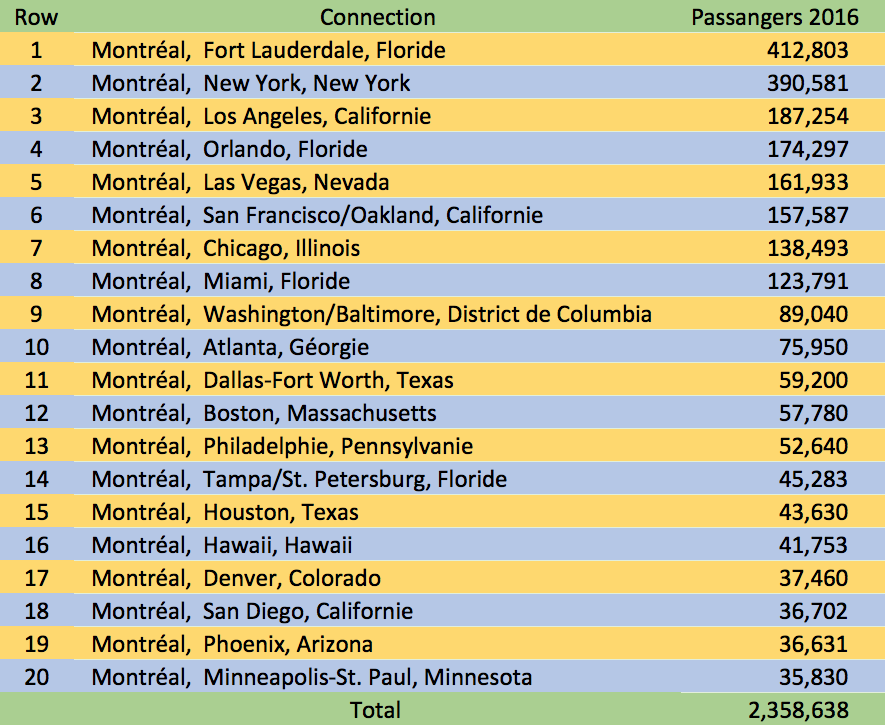 It is only once it has established a sufficient number of cross-border connections from Montreal that WestJet can think of relaunching flights between Montreal and Quebec City. It will then be able to fill up with passengers departing from Quebec whose final destination is the United States.
With the arrival of the Boeing 787 in its fleet, WestJet is completing its transformation from a LCC to a Legacy carrier offering the full range of services. Its ambition is to get ahead of Air Canada and to get there, it will have to abandon its regionalist vision to adapt to all parts of Canada. If  WestJet is serious about Québec's market, it is time to stop trying to touch it only with its finger tip and embrace it.
>>> Follow us on Facebook and Twitter