Canadian Air Travel Is at 55%
As of last October, the number of air transport passengers represented 48% of the volume reached in 2019 *. Then at the beginning of November, the number of air transport passengers fell slightly. In fact, during the first week, the proportion dropped to 47%. Subsequently, activity recovered to 55% of the volume for the corresponding period in 2019. This is excellent news for Canadian companies which are regaining snowbird customers. The flight season to the South therefore looks promising.
So here is the updated table of the daily average :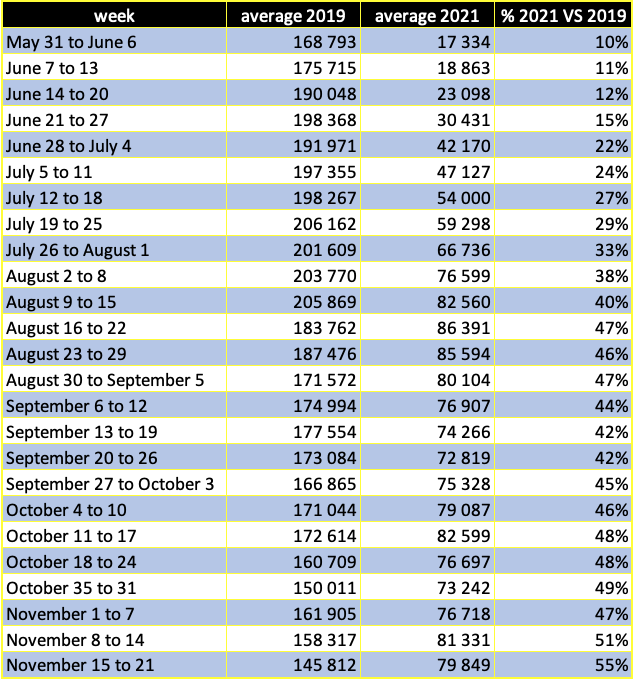 * What is measured
CATSA publishes two figures, the first is for the number of passengers at the eighth largest Canadian airports: Vancouver, Calgary, Edmonton, Winnipeg, Toronto, Ottawa, Montreal and Halifax. The second number includes the first eight airports to which are added those of Victoria, Kelowna, Saskatoon, Regina, Toronto-Billy-Bishop, Quebec and St. John's. This data excludes aircrew and ground personnel who are controlled by CATSA.
CATSA data only includes passengers who boarded at a Canadian airport. Passengers from abroad are therefore not included in these statistics. But all the same, this is good information that allows for reliable comparisons. In order to get a clear picture, I take a daily average from week to week.
Note that airports publish their monthly statistics one month late. Toronto and Vancouver are several months behind schedule. In addition, airport authorities count revenue and non-revenue passengers; therefore there could be a difference of more than 10% between the CATSA figures and those of the airports.
>>> Follow us on Facebook and Twitter