Air Transat fits well with Air Canada's growth strategy
If we want to understand how and why Air Transat is a good acquisition for Air Canada, we must first look at what is the growth strategy of the last years of the Canadian flagship. All figures and statistics that you will read in this text are taken from the presentation made to investors by Air Canada senior management on February 28, 2019.
Air Canada's international growth
Over the past few years, Air Canada has used the sixth freedom of air, which allows US passengers to fly through a Canadian airport with Air Canada before bringing them to a third country. The reciprocal also applies to visitors who leave from overseas to go to the United States.
As shown in the first chart, Air Canada's growth efforts over the past five years have focused on international markets.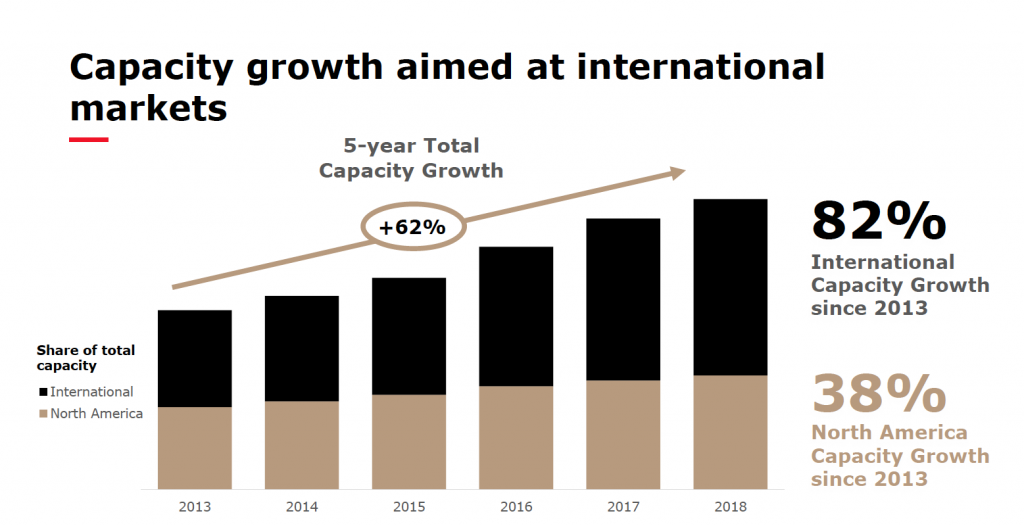 This international growth has allowed Air Canada to increase the number of international passengers that's are transiting in a Canadian airport by 142% from 2013 to 2018. As shown in the next table, domestic flights account for only 29% of all Air Canada revenues; even without the acquisition of Air Transat, revenues from transatlantic flights would eventually exceed those of domestic flights in 2019 or 2020.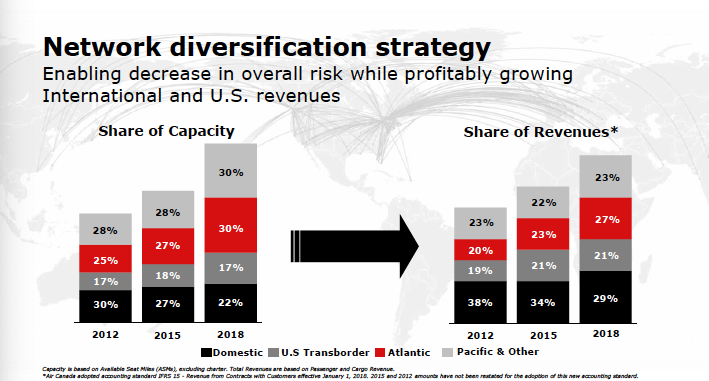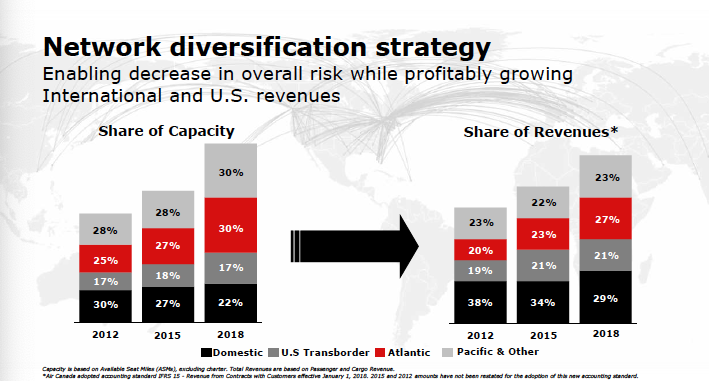 Air Canada's success over the past few years has been driven by superior customer service in the United States and competitive pricing; moreover, the company wins more and more international awards. While Air Canada is becoming increasingly international, its success has gone almost unnoticed in Canada and Quebec.
European markets
Travelers wishing to travel between cities such as Baltimore, Cincinnati and Washington to cities such as Bordeaux, Lyon or Marseille must first catch a flight to New York, then another to Paris to finally take a third flight to the final destination. With the arrival of Air Transat, Air Canada will be able to offer daily flights between its two main hubs from Montreal and Toronto to a very large number of European cities.
Air Transat's European network of destinations will allow Air Canada to increase frequencies on several routes and provide flexibility for passengers that no other carrier will be able to offer. Thus it will be possible to leave Baltimore and go to Bordeaux with a single connection; moreover, travelers from Europe can pass US customs when they transit to Montreal or Toronto. The large number of direct flights to direct destinations to European destinations combined with 55 destinations to the United States will open up opportunities for Air Canada that no other carrier can offer to travelers seeking to avoid to many connections.
The sun destinations
The combination of Air Canada Vacations and Transat A.T. would make it one of the largest, if not the biggest, buyer of overnight stays with hotels in the Caribbean and surrounding areas. Its immense purchasing power will put it in a position of strength to negotiate additional discounts. Combined Air Canada and Air Transat Offer
will be definitely competitive in the North-East of the continent and could also allow it to be competitive between the Caribbean and the European continent during the winter.
Three companies three different roles
Air Canada is a traditional carrier that offers the full range of services both on the ground and in flight. In Canada, she will remain the first choice for business class and frequent flyers looking for more space and services. Its positioning in foreign markets will continue to improve over time.
Transat A.T. is the largest group on the leisure market; the combination of its activities with those of Air Canada Vacations would make it one of the largest agents in the world. The name of Air Transat should remain for at least another ten years and there is no need to consolidate the lists of seniority of union members of both companies. At most, it will be necessary to negotiate certain adjustments in the Air Transat pilots and flight attendants collective agreement to allow a transfer of some of Rouge's employees to Air Transat. It should be possible to negotiate because the Rouge operations started in July 2013, the seniority of the union members is not very high and in addition Rouge's pilots can also apply to the positions available at Air Canada, which contributes to the high turnover of staff.
When it was first created in 2013, Rouge was initially intended for the leisure market. In early 2018, Air Canada added low-cost domestic routes to Rouge. Since Rouge's operating costs are 29% lower than Air Canada's, Rouge is the perfect product to fight against the arrival of discount carriers like Swoop. The acquisition of Air Transat therefore offers Air Canada the opportunity to profitably operate Rouge's aircraft on several regional or cross-border routes. The aircraft from regional carriers thus released may then be used to open up even more destinations in the United States or to improve the frequencies and connectivity of existing links.
The use of the fleet
Air Transat's fleet is undergoing renewal and was to be entirely composed of Airbus aircraft from 2021; this should not change because, despite the transfer of some of Rouge's activities to Air Transat, the size of the fleet should not exceed 70 aircraft, which favors an entire Airbus fleet because of the joint certification for the pilots.
Air Canada had begun to look into the replacement of the 25 B767-300ERs from Rouge, which was scheduled to begin around 2023. The arrival of Air Transat no doubt offers an opportunity to accelerate this replacement with used A330-300s as she have done with the B767-300ER of Air Canada's main fleet. To this must be added that the used A330 market should favor companies that want to acquire in the coming years. The number of A330-300s in service with Air Transat can therefore be expected to double or triple over the next five years. But the arrival of more A330-300 in the fleet of Air Transat could mean less A321LR, it remains to be seen.
If Rouge's primary role is effectively becoming a low-cost carrier on domestic and cross-border routes, the A319s should be removed from service, since A320s and A321s have better operating costs that fits better a LCC.
At the moment, we are having trouble grasping what Air Canada would do with the A321LRs that Air Transat has on order. It is a very high-performance and highly profitable aircraft that Air Canada will certainly not want to discard, especially since the Air Transat order offers the possibility of converting purchase rights for A321XLR at the start of production, in 2023-24. Certainly Air Canada will want to put a number in its main fleet, but it could also leave some to Air Transat to open new European routes in the summer and for destinations in the winter sun.
Conclusion
That's it, I went much further than any other analyst dared to do. If there is one thing you must remember from this text; it is that Air Canada has truly become an international company and its biggest competitors are as well; it is in this context that we must analyze its decision to acquire the Transat A.T.
>>> Follow us on Facebook and Twitter