On Investor Day, Bombardier Business Aircraft President and CEO David Coleal said that after Global 7500 first delivery in December 2018, three to five deliveries are expected during the first half of the year 2019, then the pace will increase to 12 or 15 deliveries for the second half of the year. The total of 2019 should therefore be between 15 and 20 aircraft. By 2020, production is expected to reach cruising speed with 35 to 40 Global 7500 deliveries.
Since we have the production target for the next three years and Bombardier claims that all the production capacity of the Global 7500 is sold until the end of 2021, a simple addition allows us to conclude that about 100 Global 7500 have been sold so far.
Mr. Coleal said that all planes scheduled for delivery in 2019 are already in the system. Interior finishing is the most time-consuming step, so it's quite normal for aircraft to be on the assembly line so far ahead in advance. Moreover, according to the information we have, last November, Stelia had already delivered more than 40 fuselages at the Downsview plant. Stelia manufactures all the center sections of the fuselage, integrates all the hydraulic and electrical systems in the fuselages and even adds the insulation so they are no longer on the green * when they arrive in Downsview. This significantly reduces the time spent on the assembly line.
As the assembly site of all Global will be moved in late 2021 early 2022, it should not be surprised if over the next three years, the site of Downsview produce more planes than the completion center of Montreal is able to take some; the purpose of this overproduction is to provide a cushion for a smooth transition from the Downsview site to the Pearson site.
The delivery of the first Global 7500 is still scheduled for 2018, leaving only two weeks before the Christmas holiday. We look forward to the invitation for the delivery ceremony which should be modest given the circumstances. If Bombardier people find time to demonstrate us the new Nuage chair and the fully reclining seat of the same name, it will be appreciated.
* In aeronautics, "on the green" means that there is only the protective paint that covers the inner part of the fuselage and that no other element is added to it as in the picture below.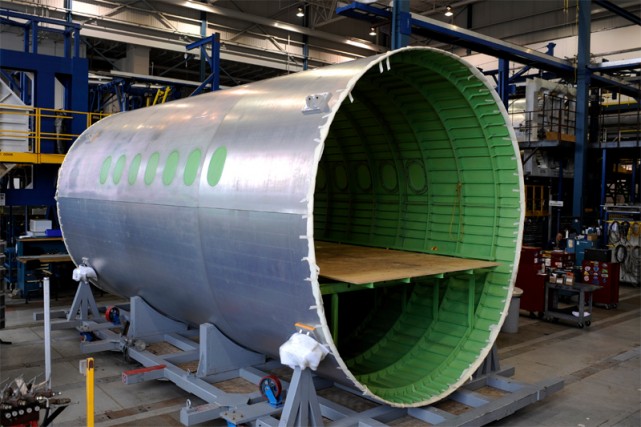 >>> Follow us on Facebook and Twitter