Bombardier-Gulfstream, the other battle
At the end of 2021, it is not only the Airbus-Boeing battle that is back, there is also that of Bombardier-Gulfstream.
From 2001 to 2019, the Bombardier-Gulfstream Battle put the two manufacturers at the top of business aviation. It must be said that from 2013 to 2019 *, Gulfstream had the upper hand. Here is a table of the market shares of the two manufacturers for the period: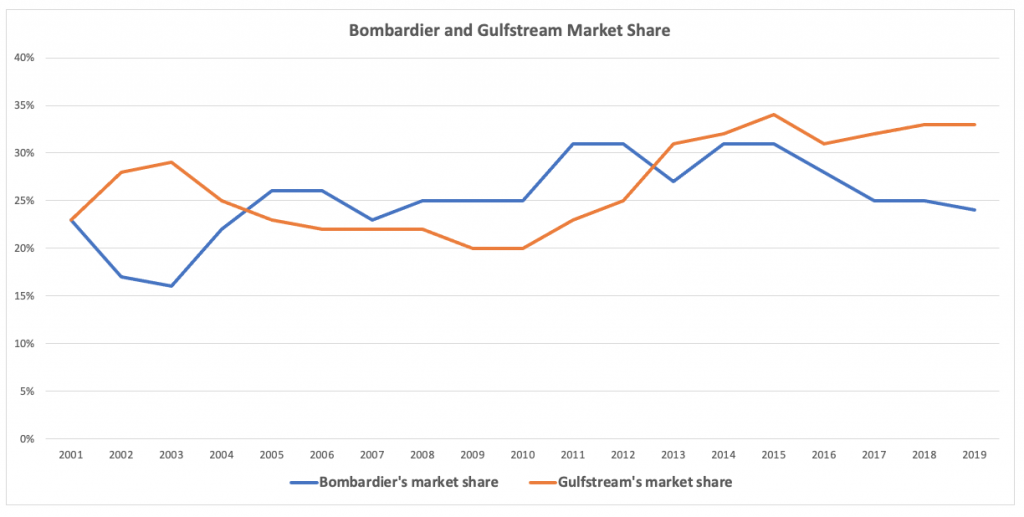 Since 2010, the two belligerents are holding more than 50% of the business aviation market share together. The General aviation manufacturer association yesterday published these latest data for 2021. Here is the table of the quarterly deliveries of the two antagonists with the estimated value:

We can see that in 2021, the gap between the two has narrowed significantly. Both companies now account for 68.4% of the market share. The difference between the two is less than 1%. After the second quarter, Bombardier was in the lead. We will therefore have to wait for the fourth-quarter results before we know who finished the year ahead.
Some similarities
There are still some similarities within the Bombardier-Gulfstream duo:
Both are now absent from the light and very light aircraft market. They both only have one version in the Super midsize. The two excel in large and long-range business jets. Bombardier has three versions in this category and Gulfstream five. All of the duo's long-haul aircraft have the latest generation of engines.
An unusual market
It is no coincidence that the Bombardier-Gulfstream battle is being played out in the large business aircraft market. This is a very special category where normal market rules seem to be ignored. For example: having the cheapest plane can hurt marketing if the gap is too big. Buyers of these planes often decide to buy the best, no matter what the price. The buyer will think that if an airplane is really cheaper, it is probably because it is not the best.
Buyers often have a fortune in excess of a billion dollars. This clientele is rarely affected by economic recessions. However, health security is an important issue for them. The pandemic is therefore an important motivating factor in deciding to buy. This market has several good years ahead of it and the two battlers have not finished their fight.
* I am disregarding the data for 2020, as it distorts reality due to the effects of COVID-19.
>>> Follow us on Facebook and Twitter