The 25 years of the Global Express
the Gulfstream Bombardier Battle
Bombardier's decision to enter the long-haul business jet market puts Gulfstream on the defensive. Indeed, with the G IV, the American manufacturer then had the largest business aircraft. Its range is 4,200 nm which is significantly more than the 3,000 nm of the Challenger 601.
Gulfstream First Response
In response to buyers' enthusiasm, Gulfstream decided to lengthen the G IV and equip it with the Rolls-Royce BR 710 engine. Its performances are similar to that of the Global.
At the beginning of 1995, the American company decided to hire Mr. Brian Moss who was responsible for the Global Express program. Subsequently, Bombardier obtained an injunction against Mr. Moss. This prohibited him from using information obtained from Bombardier for a period of at least six months. To retaliate, the Quebec company will hire Peter Edwards who is a former Gulfstream executive.
Since it is derived from the G IV, the GV allows the American aircraft manufacturer to take the lead over Bombardier. Tests began in 1995 and the first delivery was in June 1997, two years before the Global Express.
Market Shares
In 1997, Gulfstream held 28% of the market share against 21% for Bombardier. In 1998, the Montreal company announced its intention to take the first place. The target will take a few years to be reached as shown in the table of market shares * from 2001 to 2019: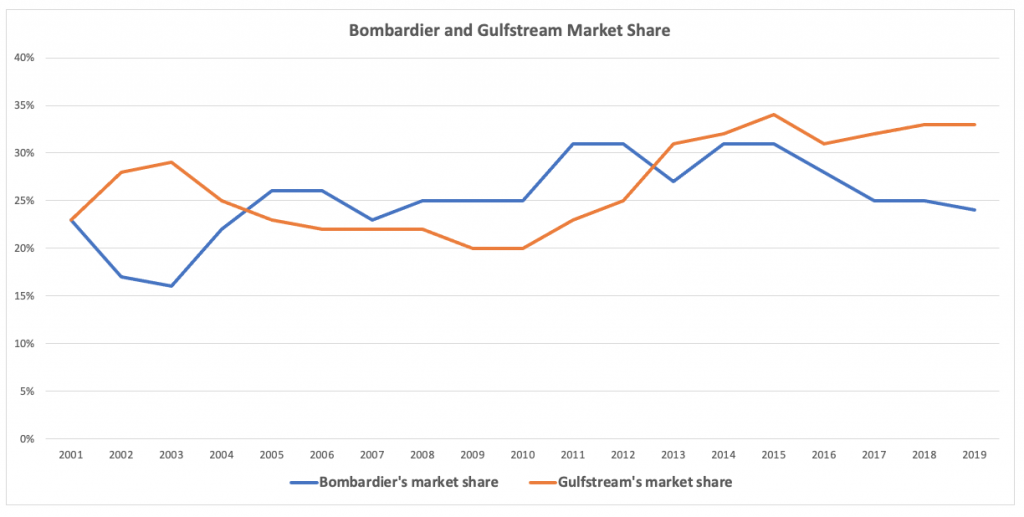 The entry into the market of the Global 5000 will provide the sales boost Bombardier needed. Then the arrival of the G650 in 2014 will restore the first position to Gulfstream. The two-year delay of the Global 7500 prevented Bombardier from regaining the upper hand in 2019. But for the first six months of 2021, the Montreal-based manufacturer regained the upper hand. The battle for first place therefore continues.
* In business aviation, market shares are calculated based on the amount of new aircraft sales. This method gives a better picture than just counting the units delivered. The figures published come from statistics provided by the General Aviation Manufacturers Association (GAMA).
Click here to watch our most recent video on YouTube
>>> Follow us on Facebook and Twitter