2022, a decisive year for Air Transat
The first quarter of fiscal year 2022 for Air Transat* will end on January 31. In early December, when unveiling the 2021 results, management gave forecasts for the winter season. Thus, Air Transat predicted that at the end of March 2022, its overall capacity would be restored to 75%. The company also anticipated offering 45% more capacity to the United States and being back to 65% in Europe. Obviously, this was conditional on the pandemic not returning to wreak further havoc. Unfortunately for her and the entire travel industry, this is the worst-case scenario that has materialized.
The Omicron variant will therefore have had a negative impact on the entire airline industry. In this text, I look at the current and future situation of Air Transat.
The capacity
It was at the very end of last July that Air Transat resumed flight operations. This gradual recovery resulted in an increase in the number of flights until December. Then the tightening of health measures disrupted the recovery in January. I have prepared a graph that shows the number of flights per month made and planned. It goes from July to March and I have also included data from July 2019 to March 2020. This allows for a comparison.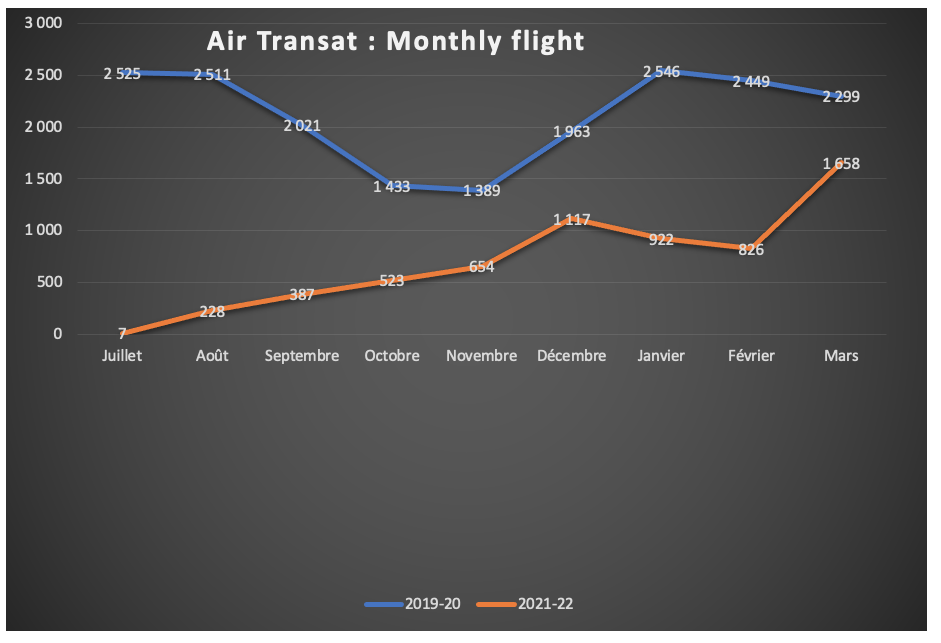 Notice that the number of scheduled flights for March of 2022 is still very high: In the past, airline planning was relatively stable up to nine months in advance. The pandemic has taught them to manage schedules a month in advance. In the coming weeks, it is to be expected that the March supply will be revised downwards sharply. Even if there should be a relaxation of sanitary measures for travelers entering the country, it will be several weeks before passengers return in numbers.
Capacity is only one indicator of the performance of an airline, the other important index is the occupancy rate. Using CATSA data on the number of passengers screened, an extrapolation can be made. At best, the average occupancy rate for flights across all Canadian airlines reached 80% last fall. Then it quickly fell back to 50% or less in recent weeks. The quarter will therefore be heavily loss-making for Air Transat.
Cash
As of October 31, 2021, Air Transat had cash or cash equivalents of $433 million. Of this sum, $128 million came from payments made in advance by passengers. It is to be expected that the company will have to reimburse at least half of it. Nearly $65 million will be withdrawn from its coffers. Relaunching operations is a phase that consumes a lot of cash, first quarter operating deficit should exceed $50 million. In total, cash should fall by $110 million to $130 million to stand at $300 million.
The tour operator also has credit facilities allowing it to raise another $170 million. In terms of liquidity, Air Transat still has plenty of leeway. If demand picks up in the summer, reservations will swell its coffers in the second quarter.
Dets
In total, Air Transat has some credit facilities of $820 million, of which $650 million has already been used. It also obtained from its creditors a relaxation of the criteria for indebtedness and financial ratios. This exemption is valid until the end of October 2022 and will have to be renegotiated. In April 2021, it obtained $700 million in aid under the Large Business Emergency Credit program. This aid is broken down into three loans:
A $78 million tranche of a secured loan maturing on April 29, 2023. The interest rate is at a premium of 4.5% over the prime bank rate. As of October 31, the company had used $44 million.
Another tranche is an unsecured loan of $312 million and must be used before October 31. This loan matures on April 29, 2026. The interest rate is 5% the first year, 8% the second year, then it increases by 2% per year thereafter. The interest on this loan can be partly repaid in the form of share capital. As of October 31, $176 million had been used.
The last part of the emergency credit is an unsecured loan of $310M at an interest rate of 1.22%. The deadline is April 29, 2028 and Air Transat has used it in full to reimburse its customers.
The company also has two other credit agreements of $50 million and $70 million. Both loans will mature on April 29, 2023 and are fully utilized. These two loans carry a premium of at least 4.5% on the base rate.
The renegotiation
Over the next 15 months, Air Transat will have to renegotiate a good part of its loans. The choice of Patrick Bui as CFO is undoubtedly linked to this situation. Indeed, Mr. Bui spent part of his career in the Bay Street financial community. His knowledge and his contacts will be very useful to him for the reorganization of the debt.
The important summer period
Even if the federal government finally listens to reason and ends up lifting the sanitary restrictions, spring is already almost entirely lost. Remember that it will take time to relaunch reservations and flights. Making this period profitable therefore seems unlikely for Air Transat.
The transatlantic flight season is traditionally the most profitable period for the Montreal tour operator. This year will be even more important, because after a long scarcity it absolutely must generate cash. It's all well and good to have some leeway, but it can't be indefinitely chugged away with hundreds of millions forever.
competition
From the summer of 2022, there will be three low-cost airlines operating in Canada. Fortunately for Air Transat, the three will spend most of the summer in the West. On the European side, it will be at its usual level except for TAP, which will use A321LRs on Montreal-Barcelona. The Canadian company will therefore have the possibility of confronting TAP directly with its A321LRs. If the pandemic does not come back to haunt it, Air Transat will have all the ingredients to make a profit next summer.
When fall arrives, the three Canadian low-cost carriers will become a major factor. The advantage of Transat is that it offers all-inclusive packages at very good prices. This should allow it to compete for Mexico and the Caribbean. But for the southern United States, it will be a different story. Expect extremely low prices for Florida, Nevada and California. If disciplined, the company will avoid offering seats below cost.
Conclusion
Air Transat still has some leeway to get out of the crisis caused by COVID-19. But she will have to exercise strict discipline in order to be able to maximize profits when possible. But like many companies in the travel sector, a sixth wave would be fatal.
*In this text, the name Air Transat actually refers to the Transat A.T. group. This choice is dictated by the fact that the expression Air Transat attracts more clicks than Transat A.T.
>>> Follow us on Facebook and Twitter