B737MAX at clearance prices?
By the end of 2020, most states will lift the flight ban on the B737MAX. For my part, I have mentioned several times that this step signifies the beginning of Boeing's real problems. As time goes by, the more my opinion on this subject is reinforced.
Airlines
As the second wave of COVID-19 hits, air travel continues to be anemic. The International Air Transport Association (IATA) has over 180 member airlines accounting for 80% of global traffic in 2019. According to IATA, from January to June 2020, cumulative member losses were $ 17 billion per month. For the second half of 2020, IATA anticipates an average monthly deficit of $ 13 billion. The association also predicts that the monthly deficits will continue through 2021.
In order to minimize their losses, airlines are cutting all expenses. One of the main measures they use is to reduce the size of the aircraft fleet in service. We are also at the beginning of a massive wave of global layoffs. By mid-2021, airlines will no longer have the finances and the people to bounce back quickly. Airlines will therefore need several years to return to pre-COVID-19 levels.
Unsold B737MAX
After the MAX's flight ban, Boeing reduced its production rate to 42 aircraft per month. It was not until the end of December 2019 that the manufacturer resolved to almost halt production of the B737MAX. During this time, more than 400 new aircraft accumulated after they came out of the assembly line. Some of these aircraft still have not found an operator yet; these are mainly planes bought by leasing companies that have not been placed.
Then COVID-19 came and wipe out global demand for air travel. Several customers who had MAXs on order also had a cancellation clause in the event of late delivery. By September, Boeing had already received several hundred cancellations. The majority of its cancellations were for unassembled aircraft. But after a quick search, I was able to identify 59 assembled B737MAX's whose orders were canceled. But the real number is probably over 100 unsold planes.
Returns from leasing
There is a saying that "bad luck never comes alone" and in the case of Boeing, it couldn't be more true. Leasing companies account for about 25% of aircraft purchases. For a new aircraft, the lease term usually varies from five to ten years. Each year, therefore, a significant number of planes come to the end of their lease and must be paced again. Normally, this is not a problem as there is always a demand for good used aircraft. But 2020 is a year that is far from normal and 2021 will be the same.
I have prepared a table of Airbus and Boeing single-aisle aircraft deliveries from 2011 to 2016. I have considered this period since it is the leases for aircraft delivered during that time that will expire. The right column represents 25% of the single aisles delivered during the period.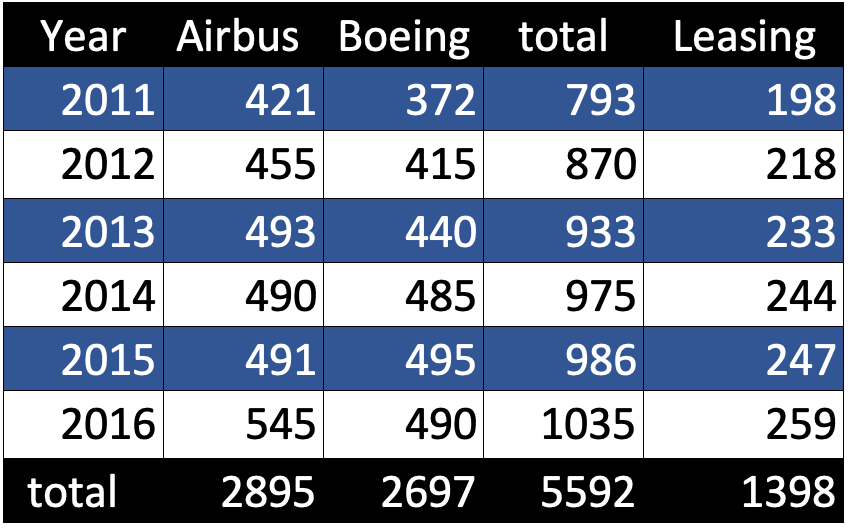 If we take an average of the aircraft leased for the years 2011-12-13-14-15 this gives 228 lease returns in 2020. Very few of these aircraft have found an operator. In 2021, 240 more single aisles will be returned to landlords. For the 2020-24 period, nearly 1,000 single-aisle lanes will be available for rental.
Falling prices
So many planes that are available with virtually no demand push the prices down. The analyst firm Ishka Global assesses used single aisles as follows:

Since the beginning of the second decade of the 21st century, there has been an explosion in aircraft orders. Manufacturers have increased production rates in order to meet demand. We are now witnessing a sudden reversal in demand, the magnitude of which is still difficult to measure. We cannot predict where exactly the fall in prices will end, but they will not rise any soon.
Selling the ​​B737MAX inventory
It is in this very difficult context that Boeing must find customers for its already assembled B737MAX. Ryan Air has expressed interest and rumors have circulated regarding Alaska Airlines and Delta Airlines. But to date nothing concrete for a substantial order. I would be very surprised if there was a major order with an airline before the second half of 2021.
Right now, the few potential buyers are in for a game of "how low can you go" in order to know how far Boeing is willing to descend in order to get rid of its MAXs. They have the big end of the stick and can wait a long time to make up their minds; As long as the price of used aircraft is this low, the value of the B737MAX also remains low despite the fuel savings it offers.
In today's environment, the parked brand new B737MAXs are worth no more than $ 30M. Is Boeing ready to sell them at this price?
>>> Follow us on Facebook and Twitter